This is an archived article and the information in the article may be outdated. Please look at the time stamp on the story to see when it was last updated.
A man in his 40s was fatally shot by his father early Wednesday morning after breaking into the family's Covina-area home, authorities said.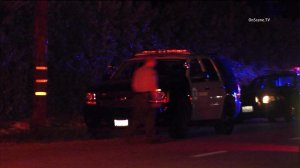 Deputies from the Los Angeles County Sheriff's Department's Walnut station responded about 2:28 a.m. to a home in the 19800 block of East Golden Bough Drive after receiving a 911 call regarding a family disturbance, according to a news release.
The deputies arrived at the scene and discovered that the homeowner, a man in his 70s, had shot his son after the younger man forced his way into the residence through a large glass door, said sheriff's Lt. Steve Jauch.
The deceased man lived at the home with his mother and father, both of whom were being interviewed by homicide detectives at the Walnut station, the lieutenant said.

"The information we have is that the father was aware of who was outside the residence," Jauch said.
"We're just getting started," he added. "Obviously, what we find out in the interview is going to be very important."
Authorities did not release the names of the victim and the alleged shooter, citing an ongoing investigation.
A neighbor told KTLA that the homeowner needed the use a wheelchair.
Anyone with information about the incident was asked to call the sheriff's Homicide Bureau at 323-890-5500. Those who wish to remain anonymous can call Crime Stoppers at 800-222-8477.