This is an archived article and the information in the article may be outdated. Please look at the time stamp on the story to see when it was last updated.
A man was shot in the head outside a South Los Angeles high school Wednesday morning, Los Angeles Police Department officials said.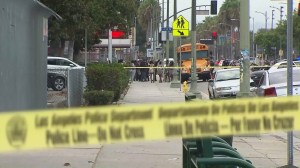 Police responded to reports of six gunshots being fired in the 4100 block of South Vermont Avenue (map) around 4:30 a.m., a watch commander said. The location was near Manual Arts Senior High School, in South L.A.'s Vermont Square neighborhood.
Responding officers discovered a man, described as an African-American in his 30s, had been shot in the head, Sgt. Brown said.
His condition was not immediately known, and a gunman and weapon were not found at the scene.
A preliminary investigation found the man was standing outside an after-hours club when the shooting occurred, LAPD Detective Joe Chavez. Police planned to interview several people who were at the scene.
Students and school buses filled the streets outside the campus Wednesday morning, despite the crime scene outside.
The campus was expected to continue with its regular schedule, Los Angeles Unified School District officials said.
KTLA's Alberto Mendez contributed to this report.