This is an archived article and the information in the article may be outdated. Please look at the time stamp on the story to see when it was last updated.
An investigation was underway Friday into the shooting death of a man found in front of a motel following an altercation between rival gangs in Rosemead.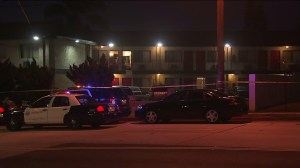 Deputies responded to a motel in the 1600 block of Del Mar Avenue after the shooting was reported about 11:48 p.m., according to a news release from the Los Angeles County Sheriff's Department.
Video showed crime scene tape outside the Del Mar Motel as the was underway Friday morning.
The shooting victim, identified only as a Hispanic man, was found in front of the motel and taken to a local hospital, where he died, said Lt. Chavez with the Sheriff's Department.
Investigators believe the shooting was the result of an altercation between two gangs, the news release read.
Two people who were with the victim were uninjured, according to the news release.
The gunman and three other people fled the scene following the shooting, the Sheriff's Department stated.
One person fled in a car, while the others took off on foot.
One of the people who ran was caught by authorities a few blocks from the scene of the shooting, the news release stated.
Anyone with information about the shooting was asked to contact the Sheriff's Department at 323-890-5500.
Those who wish to remain anonymous can call Crime Stoppers at 800-222-TIPS (8477).
KTLA's Geoff Peters contributed to this report.