This is an archived article and the information in the article may be outdated. Please look at the time stamp on the story to see when it was last updated.
A 43-year-old man was sentenced Wednesday for killing a married couple when he crashed into their car while driving under the influence in Arleta in 2015.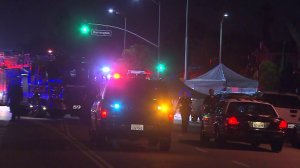 Arsen Panasian of Van Nuys was sentenced to 30 years to life in state prison after being found guilty on two counts of second-degree murder and gross vehicular manslaughter, the Los Angeles County District Attorney's Office stated in a news release.
Panasian, who had prior DUI convictions in 2001 and 2006, was driving with a blood alcohol content of .23 percent at the time of the crash, according to the DA's Office.
Alfred Chacón, 62, and Alma Alyce Chacón, 61, were coming home from a birthday party when they were struck by Panasian on June 20, 2015.
Panasian drove through a red light before hitting the couple's vehicle at the intersection of Branford Street and Dorrington Place, according to court testimony.
Officials had to extricate both victims, who were later pronounced dead.