This is an archived article and the information in the article may be outdated. Please look at the time stamp on the story to see when it was last updated.
A Los Angeles judge sentenced a man to life in prison without the possibility of parole Friday for carrying out a "ritualistic killing" in which the victim was dismembered at a downtown Los Angeles hotel.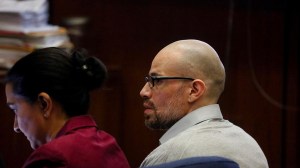 Elizabeth White-Peterson clasped her sons' hands and held them up, after the judge announced the sentence for Edward Garcia, who killed one of her sons.
"I thought I had seen it all," said Superior Court Judge Larry P. Fidler, before giving the sentence. "I was wrong."
Jurors found Garcia, 41, guilty of first-degree murder in the November 2010 slaying of Herbert Tracy White, whose dismembered remains were found in Room 66 of the Continental Hotel.
Click here to read the full story on LATimes.com.