This is an archived article and the information in the article may be outdated. Please look at the time stamp on the story to see when it was last updated.
BELLFLOWER, Calif. (KTLA) — An investigation was underway on Monday into the deadly shooting of a man in Bellflower, authorities said.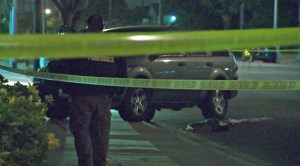 It happened around 9 p.m. on Sunday night in the 16000 block of Woodruff Avenue, according to the Los Angeles County Sheriff's Department.
A 34-year-old man was shot once inside his parked car, sheriff's officials said.
The victim tried to flee, but lost control and crashed into the sidewalk. Deputies found him unconscious in his car.
The man was transported to an area hospital, where he died.
A woman who was in the victim's car at the time said the incident began with an argument that escalated.
"She reports that the victim and the suspect were arguing," said Lt. Eddie Hernandez, of the LASD's Homicide Bureau.
"The argument escalated, she heard a shot and the victim then drove away," he said.
That woman was detained for more questioning, police said.
Anyone with information was asked to contact the L.A. County Sheriff's Homicide Bureau detectives at (323) 890-5500.