This is an archived article and the information in the article may be outdated. Please look at the time stamp on the story to see when it was last updated.
A 40-year-old man died after being shot by one or more deputies responding to an attempted suicide call inside a home in Rancho Santa Margarita on Tuesday afternoon, authorities said.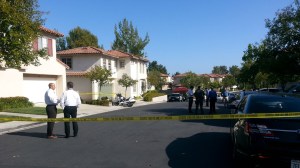 The shooting took place about 2:45 p.m. on Paseo Viento in a residential area (map), according to the Orange County Sheriff's Department.
Alec Ouzounian, 40, was transported by paramedics to a local hospital where he was later pronounced dead, according to a news release from the Orange County Sheriff's Department.
When deputies entered the residence, they confronted Ouzounian, who was suffering from multiple self-inflicted stab wounds, the release stated.  During the confrontation with Ouzounian, the deputy-involved shooting occurred.
A witness said she heard several loud bangs after deputies responded and entered a home, and then she heard a gunshot.
It was not clear what prompted the gunfire, and specifics about the shooting, including whether one or more deputies opened fire, were not immediately provided.
Neighbors described Ouzounian as a polite, quiet, friendly neighbor who worked out of his home.
"It's heartbreaking that if this man was sick that he's not getting the help that he needs -- that he was so distressed that he would want to hurt himself," neighbor Michelle Estrada said.
The address given for the shooting was is a residential development near O'Neill Regional Park, off State Route 241.
No deputies were injured, the Sheriff's Department's Twitter account stated.
The shooting was under investigation by the Orange County District Attorney's Office, which responds to all deputy-involved shootings.
DA's investigators would seek to determine what happened between the time deputies arrived and when shots were fired, sheriff's Lt. Jeff Hallock said.
KTLA's Kennedy Ryan contributed to this article.
#OCSDPIO: RSM Deputy-Involved Shooting UPDATE - Shooting victim pronounced dead at hospital. Investigation ongoing. pic.twitter.com/6vIXHkW4li

— OC Sheriff, CA (@OCSheriff) May 13, 2015
More video;