This is an archived article and the information in the article may be outdated. Please look at the time stamp on the story to see when it was last updated.
SANTA ANA, Calif. (KTLA) — Police in Santa Ana have arrested a man wanted for multiple burglaries, who's also facing a bizarre kidnapping charge.
Thomas Walker, 40, was taken into custody during an undercover drug operation on Wednesday evening in the 1400 block of East 1st Avenue, not far from where the original crimes occurred.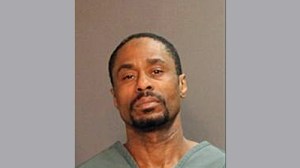 Walker, a local transient, was arrested for possession for sales of methamphetamine, which he sold to undercover officers.
His bail was set at $1 million. Police say that, based on positive identification by victims and witnesses, more charges will be added.
Walker is accused of entering an apartment in the 500 block of Lyon Street on Monday around 7:00 a.m. through an unlocked door.
Once inside, the suspect stole $100.00 from victim's purse while she slept.
The suspect was then confronted by the victim's son, at which point he fled.
Later in the day, around 2:00 p.m., police say the man returned to the same complex and forcibly entered a different apartment through a window.
Once inside the suspect confronted a female resident, grabbing her and holding her hostage for two to three hours.
The man told the woman that he wasn't going to hurt her, and demanded that she cook him some food.
She complied and cooked him a meal while the suspect ingested narcotics, according to police. The suspect then fled on the victim's blue beach cruiser.
Police received a tip based on media coverage of the case that Walker might be the suspect.
While they were working to fully identify and locate Walker, they got another tip from a person who had seen the suspect sketch and the information on the stolen beach cruiser.
She said that the suspect had abandoned the bike in her apartment complex, along with clothes that had been described in media reports.
She identified Walker as the person who returned to her complex looking for the abandoned bike.
Anyone with information is asked to call Orange County Crime Stoppers at 1-855-TIP-OCCS (1-855-847-6227) or Santa Ana police Det. Verdugo at 714-245-8345.