This is an archived article and the information in the article may be outdated. Please look at the time stamp on the story to see when it was last updated.
A 45-year-old man was arrested Monday night after allegedly stabbing his parents and two young sons to death inside a home in the Santa Barbara area, authorities said Tuesday.
Deputies made the grim discovery just after 11 p.m. when they responded to a call from a home in the 600 block of Walnut Park Lane (map), just east of Goleta, the Santa Barbara County Sheriff's Office said in a news release.
Nicolas Etienne Holzer allegedly called 911 and in a "calm and matter of fact manner told a dispatcher that he had killed his family," according to the release.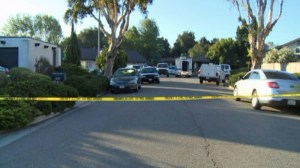 When deputies arrived at the home, Holzer met them at the front door and was taken into custody, the release said.
The victims were identified as Holzer's parents, 73-year-old William Holzer and 74-year-old Sheila Holzer and his two sons, 13-year-old Sebastian Holzer and 10-year-old Vincent Holzer.
The family dog was also killed.
The body of Holzer's mother was discovered at the threshold of a bedroom where his sons were found. His father's body was in the den, officials said.

Each appeared to have been repeatedly stabbed.
Two large kitchen knives, believed to be the murder weapons, were recovered inside the home, the release stated.

Holzer allegedly told detectives he had killed his family to fulfill what he believed was his destiny, sheriff's officials said.
He was being held without bail at the Santa Barbara County Jail on four counts of murder. 
An animal cruelty charge was also pending.