This is an archived article and the information in the article may be outdated. Please look at the time stamp on the story to see when it was last updated.
Glendale police are investigating a suspected carjacking after a driver said he was shot at twice on Tuesday evening.
Officers responded to the intersection of East Broadway and Sinclair Avenue after receiving a report about 11 p.m of a possible carjacking, according to Sgt. Tom Lorenz of the Glendale Police Department.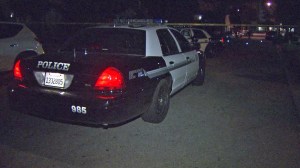 While conducting a search of the scene, the officers heard a California Highway Patrol report of a nearby shooting on the 2 Freeway at the 134 Freeway, where a man was taken into custody.
The apparent carjacking victim, Jack Ananyan, said the man had approached him and offered him money and jewelry in exchange for a ride.
Ananyan said that when he refused, the man pulled out a gun and opened fire.
"I was shot [at] once in the car," Ananyan said told KTLA. "After I got out of the car and started running, he shot after me."
Ananyan said the man then got into his car and drove off.