This is an archived article and the information in the article may be outdated. Please look at the time stamp on the story to see when it was last updated.
A man was taken into custody Sunday after a deputy-involved shooting in East Los Angeles, authorities said. No one was injured in the incident.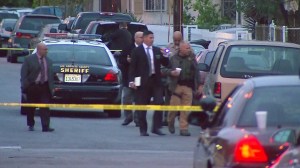 Deputies responded about 9:51 p.m. Saturday to a child-abuse call in the 6000 block of East 6th Street (map), L.A. County sheriff's officials said in a statement.
Information indicated that a man at the scene was possibly armed with a firearm. When the deputies arrived "they were immediately fired upon by the suspect," the statement said. The deputies returned fire.
Neither the man nor sheriff's personnel were injured in the exchange of gunfire.
The man fired upon the deputies a second time, while fleeing on foot, authorities said. A perimeter as established after he barricaded himself inside a residence in the 600 block of South School Avenue.
Members of the sheriff's Special Enforcement Bureau were summoned to the location, where they deployed an armored vehicle.
The man later exited the building and surrendered without incident. He was transported to a hospital for treatment.
Sheriff's officials identified him as David Martinez, 30, of Commerce.
After a K-9 unit was summoned to assist in a search for evidence, a firearm was recovered at the scene, according to authorities.
In investigation into the shooting is ongoing.