This is an archived article and the information in the article may be outdated. Please look at the time stamp on the story to see when it was last updated.
The driver of a truck that may be stolen was pursued from the San Fernando Valley and taken into custody near Griffith Park Tuesday afternoon.
California Highway Patrol Officer Julia Bond said the call initially came from the Los Angeles County Sheriff's Department, and the chase began about 2:30 p.m. at the 5 Freeway and Hasley Canyon Road in the Castaic area.
The white pickup truck was heading southbound on the 5 Freeway near the 170 Freeway about 2:45 p.m.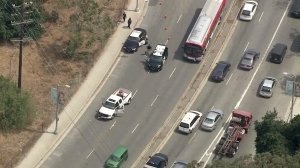 The vehicle crashed after exiting on Los Feliz Boulevard, and a man fled on foot into a nearby residential neighborhood, prompting a police search, aerial video from Sky5 showed.
The pickup had apparently struck another vehicle that appeared to be a silver Acura SUV. Firefighters were helping at least one person in that vehicle; the individual was placed into an ambulance.
An individual in a white tank top was taken into custody on Griffith Park Boulevard at Lambeth Street shortly before 3 p.m.
The truck was left abandoned on busy Los Feliz Boulevard, prompting two lanes to be blocked off just before rush hour.
Check back for updates on this developing story.