This is an archived article and the information in the article may be outdated. Please look at the time stamp on the story to see when it was last updated.
A Los Angeles County sheriff's deputy opened fire and wounded a man whose vehicle had rammed into a car early Saturday morning after a fight broke out at the House of Blues in West Hollywood, authorities said.
The incident occurred outside the popular music venue and restaurant, located at 8430 Sunset Boulevard, following a sold-out concert by the hip-hop artist YG.
A group of patrons were leaving the establishment about 1:50 a.m. when the fight erupted in the rear parking lot, according to a statement from the Los Angeles County Sheriff's Department.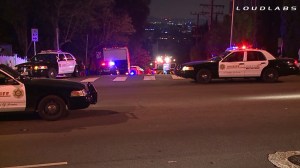 The group scattered after deputies responded to the scene, the statement said.
"The suspect, who was in a vehicle, was trying to escape the parking lot," said sheriff's Lt. Dave Dolson. "He rammed into another car, causing that car to move forward."
The driver continued to repeatedly ram the other vehicle, which was carrying multiple occupants, and refused a deputy's order to stop, authorities said.
"We believe that the deputy was afraid that the suspect's action in ramming this vehicle was endangering pedestrians," Dolson said.
The driver, who was struck by gunfire, was taken into custody and transported to a hospital, the Sheriff's Department said. He was being treated for injuries that were not life-threatening.
No deputies or House of Blues patrons were injured, according to authorities.
An investigation was underway.