This is an archived article and the information in the article may be outdated. Please look at the time stamp on the story to see when it was last updated.
One man is in custody following an hourslong standoff in Boyle Heights that prompted SWAT officers to be called to the scene.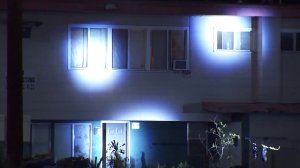 The incident began about 10:05 p.m. Thursday when officers saw two men standing outside an apartment complex near the intersection of East Olympic Boulevard and South Lorena Street, said Los Angeles Police Department Sgt. Ernesto De Alba.
The officers noticed what appeared to be a handgun in possession of one of the man and approached them, De Alba said.
Both men ran from the officers and were believed to have barricaded themselves inside one of the apartment complex units.
A SWAT team was called to the scene as the hourslong standoff got underway.
At one point, authorities could be heard talking to the men through a loudspeaker.
"We know you're scared in there, but you need to come outside with your hands up. We're not going anywhere," the men were told.
Later, video showed something being shot through one of the windows and into the apartment unit.
After more than six hours, one of the men finally came out and was taken into custody without incident, De Alba said.
It was unclear if the second man was still in the building or if authorities were searching for him.
There was no word on whether the man in custody was the man officers first saw in possession of the gun.
Areas of South Lorena Street between Hunter Street and East Olympic Boulevard were cordoned off during the standoff.