This is an archived article and the information in the article may be outdated. Please look at the time stamp on the story to see when it was last updated.
An 18-year-old man was in custody and another man was being sought on suspicion of stealing part of the burned Porsche that Rogers Rodas was driving when he and actor Paul Walker died Saturday, authorities said Thursday night.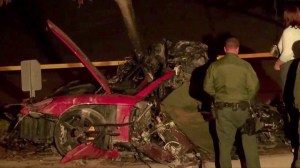 A tow-truck driver who was transporting the car from the crash site in Santa Clarita reported that a man approached when the truck was stopped at a red light and "grabbed a piece of the wrecked Porsche off the tow truck bed," according to a news release from the Los Angeles County Sheriff's Department.
A witness saw a male exit a vehicle that had been following the tow truck when the latter was stopped at Newhall Ranch Road and McBean Parkway, according to authorities. The man grabbed part of the Porsche and drove away with the vehicle part.
The tow truck driver reported the theft to the Sheriff's Department.
Jameson Brooks Witty, 18, was taken into custody at 11:30 a.m. Thursday at his home in the Los Angeles neighborhood of Tujunga on suspicion of the theft, according to the Sheriff's Department and the county inmate location website.
A "red, T-top roof panel" from the wrecked Porsche Carrera GT was recovered when a search warrant was served at a home in Canyon Country, according to the Sheriff's Department.
A 25-year-0ld second suspect in the theft was outside the state of California but was making arrangements with detectives to surrender himself, authorities said.
Witty was being held on $20,000 bail at the sheriff's Santa Clarita Valley Station. Authorities were not releasing a booking photo of him..
Detectives planned to meet with the District Attorney's Office for consideration of filing charges against both men of felony grand theft and tampering with evidence.
The investigation into the single-car collision that killed Walker, 40, and Rodas, 38, was continuing. Authorities said there was no new information about the collision on Thursday.
Anyone with information about the theft of the vehicle parts was asked to call Santa Clarita Valley Sheriff's detectives at 661-255-1121. Those who want to remain anonymous should call LA Crime Stoppers at 800-222-8477, text the letters TIPLA plus your tip to 274637 (CRIMES), or use the website http://lacrimestoppers.org.