This is an archived article and the information in the article may be outdated. Please look at the time stamp on the story to see when it was last updated.
A man was in grave condition early Monday morning after a fire tore through a single-story duplex in South Los Angeles, authorities said.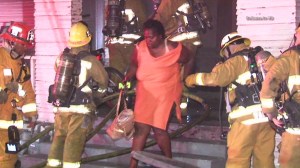 Forty firefighters responded 500-square-foot structure in the 200 block of West 50th Street in South Park (map), where the blaze broke out shortly before 1:30 a.m., according to Erik Scott of the Los Angeles Fire Department. The fire was extinguished within 20 minutes, Scott said.
CPR was performed on the injured man, who was found "pulseless" in a hallway suffering from burns and smoke-inhalation, said LAFD Capt. Jamie Moore. He was then transported to a hospital, where his pulse was detected, Moore said.
No other injuries were reported. News video showed firefighters assisting a woman as she exited the home.
"We do believe that this was caused by … smoking," Moore said. "A discarded cigarette could very easily start a fire like this, especially a smoldering fire."
Two hard-wired smoke alarms were found inside the residence but did "not appear to be functional," Scott said. Fire officials distributed smoke alarms to neighbors after the incident.