This is an archived article and the information in the article may be outdated. Please look at the time stamp on the story to see when it was last updated.
Police were searching on Monday for a man in his 50s who authorities said sexually assaulted a little girl inside a Riverside home over the weekend while her parents were asleep.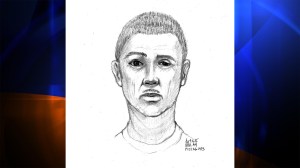 The family reported the incident, which occurred in the 5000 block of Picker Street (map), at about 6 a.m., according to a news release from the Riverside Police Department.
The girl's mother, Cynthia Ramirez, told KTLA the man convinced her 6-year-old daughter to let him in "using strategies."
"I mean … kids believe. 'I have a surprise, I have this, open the front door,'" Ramirez said of his tactics.
After being assaulted, the girl managed at one point to get away from the intruder at one point, police stated. She tried to notify one of her parents, but before she could do so, he fled in a pickup truck.
"What he did was wrong. I just can't image image…how he could do this to a child," Ramirez said.
She added her daughter was traumatized and scared after the incident, but was otherwise doing OK.
"I thank God, it could have been worse. I thank God it wasn't," Ramirez said.
The little girl did not know the assailant, but was able to give a description of the man to an artist who created a sketch, according to police.
The intruder was described as being 5 feet 7 inches tall, with dark hair, a thin build and a "droopy" left eye. He spoke with an accent and was thought to be Hispanic, the release stated.
His was driving a full-size, standard-cab pickup truck.
Police stated in the release that they were unsure if the incident was related to any others that have occurred recently.
"I really hope they're able to get him and he's able to do his time," Ramirez said.
Anyone with information has been asked to contact Riverside police Detective Aurelio Melendrez by calling 951-353-7119 or emailing at amelendrez@riversideca.gov.