This is an archived article and the information in the article may be outdated. Please look at the time stamp on the story to see when it was last updated.
A 35-year-old man who suffered a cardiac episode during a violent confrontation with Anaheim police earlier this month has died, his family announced Monday.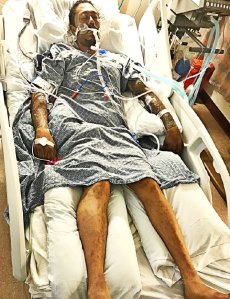 Christopher Eisinger was taken off life support Saturday after he was declared brain dead, his family said in a statement.
The incident occurred just after midnight March 2 when police responded to a man in a woman's backyard. Responding officers found Eisinger, who ran away and but tripped and fell as police tried to take him into custody.
During a news conference last week, police said Eisinger kicked officers and tried to pull away while authorities tried to restrain him.
He then appeared to be "suffering medical distress" and went into cardiac arrest, officials said. He was taken to a hospital but Eisinger's brain later swelled and he was put on a ventilator.
Eisinger apparently also had facial injuries, but Anaheim Police Chief Julian Harvey said he was confident his officers did not use excessive force during the take down.
The chief said officers were wearing body cameras and they were activated, but the department will not release video taken during the incident until after an investigation is complete.
Police had previously said that Eisinger was "no stranger" to law enforcement, and he had multiple convictions for domestic violence, narcotics violations and battery on an officer.
In a statement, an Eisinger family attorney said the man was unarmed while he was being subdued by five officers. His injuries appear consistent with lack of oxygen "from applied force to the head, neck," the statement reads.
Family attorneys said they believe the injuries happened as Eisinger's head was held down by police against a concrete sidewalk.
"The force used to restrain his head was so significant that it caused two fractures on his left cheekbone and caused bleeding behind his right eye," attorney Annee Della Donna said during a news conference Monday.
"We miss that smile, we miss that Chris," Eisinger's mother, Katrina Eisinger, said Monday.  "When I walked into the hospital room, my stomach just sank. I couldn't even fathom what had happened."
When I first went into Chris' room it looked like he had been beaten beyond recognition," his father, Jay Eisinger said.