This is an archived article and the information in the article may be outdated. Please look at the time stamp on the story to see when it was last updated.
A man was shot in Hollywood early Sunday, apparently as clubs were closing out in the area and LAPD officials were looking for the possible shooter, authorities said.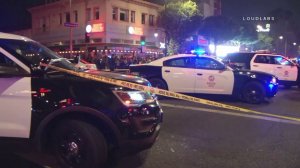 The incident happened about 1:50 a.m. near the intersection of Hollywood Boulevard and Las Palmas Avenue, the Los Angeles Police Department reported.
Two group of men were in an altercation when one person pulled out a gun and opened fire.
The victim was shot five times in the stomach but is expected to survive, an LAPD officer told KTLA.
The shooter left the scene and has not been arrested.
Video from the scene showed a large crowd gathered near where the shooting occurred as police responded.
A witness at the scene said he heard "four or five" shots.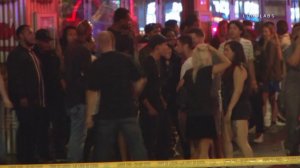 "The first thing that goes through my mind is, 'damn, do I have enough cash to grab a cab and get home?'" Devon Beer said.
He then said he was concerned that one of his friends who dress as characters along the boulevard may have been shot.
"Some of them are Wolverine, some of them are Wonder Woman, and the guy who dresses up as Captain America, he used to be my neighbor, so I'm like, 'man, maybe someone took some beef on some characters.'"
Another witness said people started "booking it the other way" after the shots were fired.
KTLA's Geoff Peters contributed to this story.