This is an archived article and the information in the article may be outdated. Please look at the time stamp on the story to see when it was last updated.
A man was shot at while driving on the 5 Freeway in Boyle Heights on Monday night, but the details surrounding the shooting were not immediately known, sheriff's officials reported.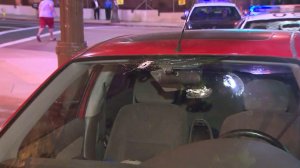 The shooting happened about 8:30 p.m. on the northbound lanes of the freeway near the Citadel in Commerce. Lt. Glenn Walsh, of the East LA Sheriff's Station, said someone pulled up next to the victim and fired a single round.
Officials said the victim exited the freeway and waited for first responders at the intersection of 1st and Boyle in Boyle Heights.
The victim's condition was unknown, but officials said the man was coherent and talking when he was transported to a local hospital. It was unclear if the man was hit by a bullet, or if he was injured by shattered glass.
No suspect information was immediately available.
Check back for updates on this developing story.
KTLA's Nidia Becerra contributed to this story.