This is an archived article and the information in the article may be outdated. Please look at the time stamp on the story to see when it was last updated.
A man was killed and two others were injured in a Monrovia shooting early Saturday and law enforcement is still searching for the gunman — a manhunt that set off some SWAT activity later in the day, officials said.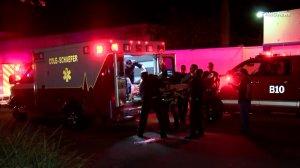 The shooting occurred just after midnight at the Gem City Grill in the 100 block of East Olive, the Los Angeles County Sheriff's Department said in a news release. Officials later said the gunman and possibly other suspects are still being sought, while two men have been detained as persons of interest.
Later in the day, at around 1:30 p.m., SWAT officers surrounded a Monrovia home in search of the shooter. They set off flashbang grenades but no one was found.
The gunman has been described by officials as a Hispanic man in his 20s.
Lt. John Corina told KTLA that on the night of the shooting, two groups of people began arguing inside the restaurant when one person took out a gun and opened fire.
The shooter and others with him then ran away. Authorities did not specify how many people related to the incident remain at large.
A 43-year-old man died on the way to the hospital, officials said. The other men, both 24, were transported to a hospital and are expected to survive. None of the victims have been identified. It is unclear if the victims were involved in the fight that broke out before the shooting.
Investigators remained at the scene about 6 a.m. interviewing witnesses, reviewing surveillance video and combing through evidence.
Some people were detained for questioning, but no one has been arrested in connection with the shooting. Investigators may be looking for more than one person in relation to the incident.
Corina described the Old Town Monrovia area where the shooting happened as a "nice little community."
"For this shooting to happen is kind of unusual," the lieutenant said.
Corina said the shooting may be gang-related, but no further details have been released.
Carolina Gazca, who lives nearby, said she woke up to a woman screaming right outside her apartment complex.
"We would not expect this in old town at all," Gazca said. "It's like super safe down here."
Anyone with information can call the homicide bureau at 323-890-5500.