This is an archived article and the information in the article may be outdated. Please look at the time stamp on the story to see when it was last updated.
A man was killed and a boy was critically injured in a shooting in Monrovia late Saturday, officials said.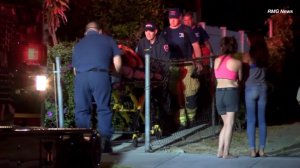 The shooting was reported about 11:35 p.m. in the 100 block of West Cypress Avenue.
Responding officers found the victims had each been shot at least once in the torso, Los Angeles County Sheriff's officials said in a news release.
The man was pronounced dead at the scene and the boy was taken to a hospital in critical condition. Officials did not reveal his age.
The shooter is described as a Hispanic man in his 20s.
Detectives remained at the scene Sunday morning and spoke to family members who arrived.
Investigators were also talking to witnesses who were at the scene when the shooting occurred.
The motive behind the shooting remains unclear and the investigation is ongoing. Anyone with information can contact the sheriff's department is 323-890-5500.