This is an archived article and the information in the article may be outdated. Please look at the time stamp on the story to see when it was last updated.
Police shot and killed a man as he was in the middle of a knife attack on his father at their Bell Gardens home late Wednesday, authorities said.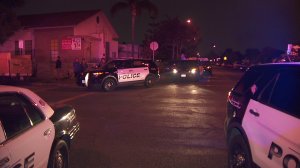 The officer-involved shooting took place about 10:20 p.m. in the 5900 block of Loveland Street, between Eastern and Garfield avenues, according to Deputy Marvin Crowder of the Los Angeles County Sheriff's Department's Information Bureau.
Bell Gardens Police Department officers first responded to a report of a "family disturbance," Deputy Armando Viera Jr. said in a written statement.
They encountered a man who became "agitated", ran deeper into the home and attacked his stepfather with a knife, officials said.
"The Bell Garden's police officers chased the suspect into the home and while the suspect was stabbing his stepfather with the knife, an officer-involved shooting occurred," Viera said.
The suspect died at the scene. Authorities described him as a 24-year-old man. His identity was not yet available.
The wounded stepfather was taken to a hospital where he was listed in stable condition, Viera said. No officers were hurt during the incident.
Detectives from the Sheriff's Homicide Bureau are spearheading the investigation. Anyone with information can reach the bureau at 323-890-5500. Tips may also be submitted anonymously to L.A. Regional Crime Stoppers at 800-222-8477.