This is an archived article and the information in the article may be outdated. Please look at the time stamp on the story to see when it was last updated.
A fatal shooting in Tustin and fiery police pursuit crash in Santa Ana were being investigated as a possible murder-suicide, authorities said Tuesday.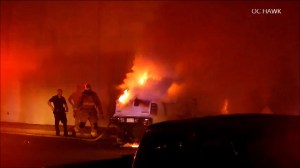 The incident began around 7 p.m. Monday when deputies responded to a report of a shooting at a residence in the 18400 block of Warren Avenue in Tustin (map), according to an Orange County Sheriff's Department news release.
When officers arrived, they found a woman near the front of the residence who had been shot at least once. She was rushed to a local hospital where the unidentified female was later pronounced dead.
The victim was identified Tuesday morning as 55-year-old Lahoma Ballester of Tuester, according to the Orange County Coroner's office.
Based on the preliminary investigation, authorities believed that a white SUV vehicle may have been related to the shooting, the release stated.
Investigators provided information about the vehicle to neighboring law enforcement agencies, including the Santa Ana Police Department which eventually located the SUV.
After the vehicle failed to stop when officers tried to pull it over, officers began pursuing the vehicle, according to the release.
The pursuit ended a short time later when the SUV collided with a wall on North Rio Vista Street at East Frontera Street in Anaheim and burst into flames.
The driver was traveling at a high-rate of speed and did not break prior to the collision, according to Lt. Jeff Hallock with the Sheriff's Department.
He died in the fiery crash, authorities said. His name hasn't been released pending confirmation and next of notification.
Investigators initially said they were working to determine what led to the shooting, and whether there was some sort of relationship between the man and woman.
Later, in a separate news release, Hallock said that Ballester knew the gunman, who had a previous relationship and child in common with the victim's daughter.
A handgun has been recovered that was believed to have been used in the shooting.
Anyone with information was asked to call the Sheriff's Department at 714-647-7000. Those wishing to remain anonymous were urged to contact Orange County Crime Stoppers at 855-847-6227 or occrimestoppers.org.
More video: