This is an archived article and the information in the article may be outdated. Please look at the time stamp on the story to see when it was last updated.
A man who was allegedly armed with a knife was fatally shot by at least one California Highway Patrol officer near the 10 Freeway in Santa Monica early Monday, officials said.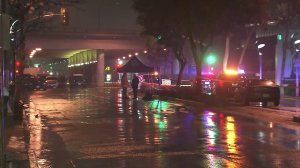 The incident was reported about 12:20 a.m., after CHP received calls about a man walking along the east side of the freeway near Centinela Avenue, said Lt. Joe Mendoza of the Los Angeles County Sheriff's Department, which is investigating the shooting.
Responding officers found the man armed with a knife at the center median. The man ran across lanes as officers approached him and eventually ran off an embankment and onto surface streets, Mendoza said.
The man ended up between two buildings in the 3300 block of Pico Boulevard, but officers lost sight of him. When they spotted him again, the man ran toward officers with the knife, according to the lieutenant.
An officer-involved shooting occurred and the man was shot. He was taken to a hospital where he was eventually pronounced dead, Mendoza said. A knife was recovered at the scene, he added.
No officers were injured during the incident.
A portion of Pico was shut down during the investigation by the sheriff's department.
The man has not been identified. A sheriff's news release described him only as a black adult male.