This is an archived article and the information in the article may be outdated. Please look at the time stamp on the story to see when it was last updated.
UPDATE: The hit-and-run victim was identified Thursday as Von Dedric Miles, 47, according to the LAPD.
An investigation was underway Wednesday morning in South Los Angeles after a man was struck and killed in a hit-and-run, police said.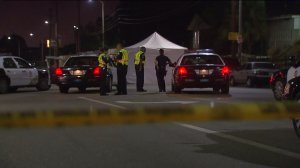 Officers initially responded to a report of shots fired on Figueroa Street between 121st Street and 120th Street (map) around 1 a.m., according to Sgt. Hendley Hawkins of the Los Angeles Police Department.
"Patrol units arrived on scene and determined it was not shots fired, it was actually a hit-and-run," Hawkins said.
Investigators determined that the man was attempting to cross the street outside the crosswalk when he was struck, according to LAPD Detective Jimmy Render.
The victim, described as a black male in his mid-30s, had tire marks on his body, Hawkins said.
He was pronounced dead at the scene.
Investigators were reviewing video taken from a camera at a hotel in the area as they tried to figure out who was responsible for hitting the man,  Hawkins said.
Authorities have not released a description of the driver or the vehicle.
Police have asked for the public's help with the investigation.
"There was no evidence left at the scene, no skid marks. So we're really looking for the community to come forward to provide us with any information," Render said.
Tips could be left by calling L.A. Crime Stoppers at 800-222-8477.