This is an archived article and the information in the article may be outdated. Please look at the time stamp on the story to see when it was last updated.
Eleven firearms, including two AR-15 rifles, and some 3,000 rounds of ammunition were found at the Camarillo home of a man whose probation prohibits him from having a gun, authorities said Saturday.
The discovery was made after the man – Jacob Baird, 41 – was arrested while allegedly carrying a loaded, concealed handgun and in possession of law enforcement identification that was not his.
Authorities were initially called about 4 p.m. Friday with a report of a suspicious person possibly carrying a gun in the 700 block of East Camarillo Springs Road, the Camarillo Police Department said in a news release.
When deputies arrived, they found Baird with the concealed handgun, which he not permitted to carry, as well as the law enforcement ID, according to the release. Baird is not a law enforcement officer, police said.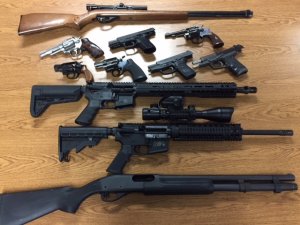 The terms of Baird's probation for theft out of Ventura County prohibit him from having or owning firearms and ammunition.
After his arrest, deputies searched Baird's home, finding the 11 firearms, ammunition and several high-capacity magazines, the release stated. The weapons were seized.
Baird was booked on suspicion of carrying a loaded firearm, impersonating a peace officer, and for violating the terms of his probation.
Baird was being held on $55,000 bail at the Ventura County Pre-Trial Detention Facility in Ventura.