This is an archived article and the information in the article may be outdated. Please look at the time stamp on the story to see when it was last updated.
A Bell Gardens man accused of beating a sheriff's deputy unconscious at the Lakewood Center Mall pleaded not guilty to attempted murder and other charges Tuesday, a Los Angeles Superior Court official said.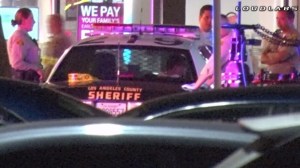 Frankie Estrada, 21, was arrested after he allegedly attacked a Los Angeles County sheriff's deputy who was investigating a domestic violence call at the Lakewood Mall (map) on Friday.
Witnesses reported the assault began when the deputy dropped a set of keys and bent over to pick them up.
Estrada allegedly threw a punch at the deputy and knocked him unconscious, according to a news release from the Los Angeles County District Attorney's Office.
Estrada allegedly continued to assault the deputy by repeatedly kicking and stomping the official's head and neck while he was lying on the ground, the DA's office stated.
"It was an absolutely violent attack that was unprovoked," Capt. Keith Swensson with the Sheriff's Department said on Saturday. "There was no reason for it to happen."
The deputy, who has not been identified, remained in the hospital in serious condition on Tuesday, the DA's office stated.
Estrada has been charged with attempted murder of a peace officer, aggravated mayhem and unlawful sexual intercourse with a minor, all felonies. He was also charged with one misdemeanor count of battery, according to the DA's office.
Estrada's next court date was scheduled for Sept. 4.
He faces up to life in prison if convicted, the DA's office stated.