This is an archived article and the information in the article may be outdated. Please look at the time stamp on the story to see when it was last updated.
A 25-year-old man accused of killing a teenage motorist while driving drunk on the wrong side of the 210 Freeway in Azusa pleaded not guilty Wednesday to murder.
Tyler White Thompson was also charged with two counts of driving under the influence of alcohol causing injury within 10 years of another DUI offense, one count of leaving the scene of an accident and one count of driving on a suspended license, according to a news release from the Los Angeles County District Attorney's Office.
Thompson was previously convicted of driving a vehicle with a blood alcohol content of .08 percent or more in 2011 and driving when driver's license suspended or revoked in 2013, the release stated.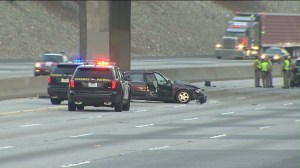 Thompson was allegedly driving the wrong way on the 210 Freeway around 3 a.m. on Aug. 9, 2014 when he crashed into another vehicle, killing the driver, 19-year-old Justin Romo, the prosecutor said.
Thompson allegedly tried to flee the crash scene on foot but was soon arrested by authorities, the prosecutor added.
"They caught him, and justice is going to be served," Romo's mother, Lupe Garcia told KTLA back in August. "I just hope he gets the maximum time for killing my son."
Garcia, who is active in Mother's Against Drunk Driving, said she often warned Romo about the dangers of driving drunk.
Thompson has remained in custody on $1.15 million bail since his arrest, the release stated.
If convicted as charged, he faced a maximum sentence of 20 years to life in state prison.