This is an archived article and the information in the article may be outdated. Please look at the time stamp on the story to see when it was last updated.
A 56-year-old man pleaded not guilty to shooting his estranged wife dead in front of their family in what authorities have described as an attempted murder-suicide, officials said Tuesday.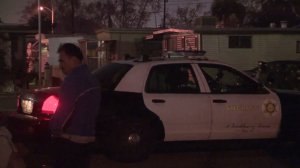 Santiago Palacios Salgado entered the plea in the Christmas Day shooting case on Monday, the Los Angeles County District Attorney's Office said in a news release.
He had previously been charged with five felony counts: one count of murder and four of assault with a firearm, officials said.
Prosecutors allege Salgado went to a home on the 9100 block of Rosecrans Avenue on Dec. 25, 2017, and fatally shot Gabriela Romo-Garcia. Officials have not said who the home belonged to.
Salgado then turned the gun on himself and shot himself in the torso, according to the L.A. County Sheriff's Department.
While sheriff's officials, who investigated the case, previously said the couple was divorced, the DA's office described them as an estranged husband and wife.
Deputies have said the couple has a 6-year-old son and 8-year-old daughter who witnessed the shooting but were not injured.
Salgado was arrested the next day, Dec. 26, after receiving hospital treatment.
The 56-year-old could face a maximum sentence of life in state prison. He is expected to return to court March 7 for a preliminary hearing.