This is an archived article and the information in the article may be outdated. Please look at the time stamp on the story to see when it was last updated.
LANCASTER, Calif. (KTLA) — The man believed to be the owner of four pit bulls that mauled and killed a 63-year-old woman pleaded not guilty to murder Wednesday in Lancaster.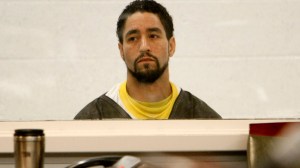 Alex Jackson, 29, was charged with murder in the death of Pamela Marie Devitt. She was out for her morning walk on May 9 when a pack of four pit bulls suddenly attacked, sheriff's officials said.
A passing motorist saw the dogs mauling Devitt and called 911.
When a deputy arrived on scene, there was a pit bull still attacking the victim, authorities said. The deputy was able to chase the dog away and called paramedics.
Devitt died while being transported by ambulance to the hospital.
Later that same day, homicide investigators seized eight dogs, including six pit bulls and two mixed breeds, from Jackson's home on 115th Street.
Four of the pit bulls were believed to be involved in the attack. The dogs had what appeared to be blood on their coats and muzzles, according to investigators.
The L.A. County Coroner's office conducted an autopsy on Devitt and determined she died from loss of blood from about 150-200 puncture wounds.
DNA tests conducted on blood found on the pit bulls revealed that it belonged to Devitt, according to the sheriff's department.
The case was presented to the L.A. County District Attorney's Office, and charges were filed against Jackson on May 29.
"He's not a murderer," Jackson's girlfriend Lorraine Torez said. "His heart is heavy, not for himself, it's for the family of the woman," she said.
Jackson was sad about what happened, friends of his told KTLA. But he believes the tragedy was an accident and not a crime, they said.
Jackson was being held on $1,050,000 bail.
His next court appearance was scheduled for Aug. 19.