This is an archived article and the information in the article may be outdated. Please look at the time stamp on the story to see when it was last updated.
A 22-year-old man pleaded not guilty Thursday in the fatal stabbing of a woman at a Santa Fe Springs swap meet in an apparent dispute over a parking space.
Reggie Cervantes entered not guilty pleas to felony counts of murder and assault with a deadly weapon in the death of Elizabeth Yanez last month, according to a news release from the Los Angeles County District Attorney's Office.
Cervantes' co-defendant, 19-year-old Brenda Jasmine Rangel, pleaded not guilty to the same charges on Oct. 21, the release stated.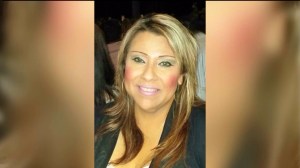 The attack occurred around 9:30 p.m. on Oct. 17 in the parking lot of the swap meet located in the 13000 block of Alondra Boulevard.
Yanez, who was with her two adult children, was looking for a parking space when she reportedly got into an argument with Cervantes and Rangel, who were in a separate vehicle, the release stated.
Her children said the verbal confrontation quickly escalated.
"It went from one to 10 in a matter of seconds," son Daniel Crable said. "The next thing you know this man is out of his car."
Cervantes initially tried to stab Crable, but was unsuccessful, according to the release. Cervantes then allegedly walked over to Yanez and stabbed her multiple times in her neck and back, police said.
The 43-year-old mother of two was transported to UCI Medical Center where she later died.
After the assault, Cervantes and Rangel drove off.
Detectives were able to pull fingerprints from the victim's car, which led to the couple's arrest in South Los Angeles the next day.
Cervantes and Rangel were scheduled to return to court on Dec. 15 for a preliminary hearing.
If convicted as charged, each faced a maximum sentence of 25 years to life in state prison.