This is an archived article and the information in the article may be outdated. Please look at the time stamp on the story to see when it was last updated.
EL SEGUNDO, Calif. (KTLA) — A man accused of posing as a cop and sexually assaulting a woman in El Segundo appeared in court on Wednesday, as the search continued for a second man.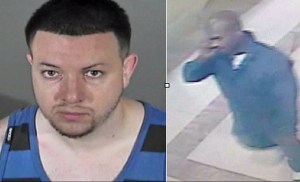 Wesley Robert Stepp, 28, allegedly set up an appointment with a prostitute he had met online at a hotel in El Segundo on Saturday, according to police.
"When he got to the room, he forced entry, displayed a realistic-looking but fake police badge, identified himself as a detective and handcuffed her," Lt. Jeffrey Leyman said.
A second man then arrived and stole the woman's cash and credit cards, investigators said.
"The first suspect then sexually assaulted the victim, and then he left," Leyman said.
Police used hotel security video to identify Stepp's truck, and then arrested him on Monday in downtown Los Angeles.
The second man was still being sought by police. KTLA has learned that he may go by the name of Eric Thrope, a close friend of Stepp.
Residents of a Koreatown apartment building where Stepp was once the manager said he frequently flashed a police badge and a handgun to intimidate the locals.
"At first he seemed like he was this really cool guy, and as you got to know him you him, you see him turn into this monster," a resident, who identified herself as "Maria," said.
"He actually flashed the gun at a couple of people a couple times, and the police badge also," said another woman, who did not want to be identified.
She said that he was arrested previously back in November for impersonating a police officer.
"I think he's a bully, though. He's a real bully, and he tries to press that 'I'm bigger than the law' thing," said resident D'Angelo Smith.
A man who identified himself as "Double R" and claimed to be a pimp in the neighborhood said Stepp was familiar with the sex trade, and had tried to intimidate his girls.
"He's flashed a badge on me more than once… Ya, has guns, yes," he said. "He threatened me with the gun. It's a silver gun I've seen him with."
Stepp hid during his court appearance on Wednesday, at which he was charged with robbery, burglary, sexual assault, false imprisonment and impersonating a cop.
He pleaded not guilty, and his bail was set at $145,000.
Police were investigating the possibility that there may be additional victims. Anyone with information was asked to contact the El Segundo Police Department.