This is an archived article and the information in the article may be outdated. Please look at the time stamp on the story to see when it was last updated.
A convicted felon who fled Texas following the disappearance of his aunt and uncle has been linked to a series of violent beatings, three of them deadly, in downtown Los Angeles and Santa Monica, officials announced Tuesday.
Ramon Escobar, 47, was booked on suspicion of murder in the death of three men, LAPD and Santa Monica police said at a news conference. He was also detained on suspicion of attempted murder in the assault of four other men, officials said.
Calling him a "violent predator," LAPD Lt. William Hayes said Escobar's main motive was robbery even though the victims all appeared homeless. Detectives also believed the suspect — who had a criminal history including trespassing, burglary and assault in Texas — to be homeless himself.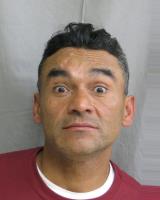 Escobar had previously been deported from the U.S. to El Salvador six times from 1997 to 2011 after a federal immigration judge ordered him removed in February 1988, according to a U.S. Immigration and Customs Enforcement statement provided to KTLA.
The suspect has six felony convictions for burglary and illegal reentry, ICE said. He was most recently released from ICE custody in January 2017 after he won an appeal of his immigration case in December 2016.
Houston police interviewed Escobar as a person of interest on Aug. 30 regarding Dina and Rogelio Escobar, his aunt and uncle who went missing days earlier, Hayes said.
Escobar's cousin Ligia Salamanca told reporters he was "a family member that was in the house both days my mom and my uncle went missing."
Salamanca added, "I'm glad that it can hopefully be solved, and I want justice to be served."
Ramon Escobar, nephew of missing persons Dina and Rogelio Escobar, was arrested in Santa Monica, California, yesterday. He's a person of interest in their disappearance in Houston. Our investigators want to speak with him. No other information at this time. pic.twitter.com/sUpD7oePUf

— Houston Police (@houstonpolice) September 25, 2018
Authorities suspect the 47-year-old drove to Los Angeles after the questioning. LAPD believes he arrived in Southern California on Sept. 5.
On Sept. 8 at around 6:45 a.m., Escobar allegedly attacked a person sleeping on the beach in Santa Monica. That victim sustained blunt force trauma to the head but has since been released with no recollection of the incident, Santa Monica police Capt. Wendell Shirley said.
Two days later, Escobar carried out a similar assault near the beach and left a man in a coma, according to detectives.
He then allegedly traveled to downtown Los Angeles where, on Sept. 16, he attacked three homeless people sleeping along Flower Street.
Kelvin Williams, 59, and Branden Ridout, 24, died four days later, while the third victim, Tievon Harmon, 23, remained on life support, officials said. Authorities did not provide the spellings of their names.
According to detectives, the assailant hit each of the victims repeatedly with a baseball bat in the head and shoulders before going through their belongings.
Escobar returned to the beach and allegedly beat a man to death under the Santa Monica Pier on Sept. 20.
Although authorities initially described 39-year-old Steven Cruze Jr., as homeless, the victim's family said he lived in San Gabriel and worked on charter and whale-watching boats. He sometimes slept in a hammock on the beach, his aunt, Christine Arias, told KTLA.
Escobar was arrested Monday in Santa Monica shortly after the beating of another homeless man in the 1500 block of Seventh Street, LAPD said. That victim also sustained blunt force trauma to the head and fell into a coma, Wendell said.
When they noticed that Escobar, who had a distinctive gait, resembled the suspect described in the downtown L.A. attacks, Santa Monica officials alerted LAPD.
Detectives searched Escobar's 2004 black Honda CRV and reported finding a wooden baseball bat. Bolt cutters, which authorities believed Escobar used in Monday's beating, were also discovered.
Southern California officials on Monday evening got in contact with Houston police, who were searching for Escobar in the disappearance of his relatives.
The suspect served time in prison from 1995 to 2000 in connection to a burglary, Lt. Hayes said at Tuesday's news conference. Escobar was also involved with an assault in November 2017 and criminal trespassing in February, the lieutenant added.
It appeared Escobar was previously deported to El Salvador for a felony, according to Hayes, who did not provide further details about that case.
Escobar, who was being held without bail after his arrest on Monday, was scheduled to be arraigned at Los Angeles Superior Court on Wednesday.