This is an archived article and the information in the article may be outdated. Please look at the time stamp on the story to see when it was last updated.
Police responded to a disturbance report involving a man who may have been armed with a pair of swords in Valley Glen Tuesday morning.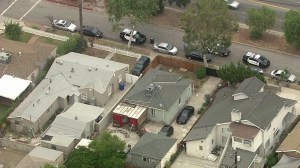 Police responded to a call at about 7:20 a.m. that a man, possibly armed with two machetes, was involved in a dispute in the 6500 block of Whitsett Avenue (map), according to Officer Wendy Reyes of the Los Angeles Police Department.
The person who called authorities said the man was hiding in a bedroom with one other roommate, Reyes said.
Aerial video from Sky5 showed one man was taken into custody at about 7:40 a.m., but it does not appear to have been the man police were initially looking for.
There was no word on why he was detained.
Two women and a man exited the home a short time later and waited outside as authorities entered the residence with guns drawn, video showed.
Authorities did not find anyone matching the callers description inside the home, according to Sgt. Mike Kammert of the LAPD.
The case was still under investigation, Kammert said.
Correction: An earlier version of this story incorrectly stated the incident took place in Valley Village. The story has been updated to reflect the changes.