This is an archived article and the information in the article may be outdated. Please look at the time stamp on the story to see when it was last updated.
A man was sentenced this week to six years in state prison for the sexual assault of an 11-year-old girl at a department store in Victorville in February.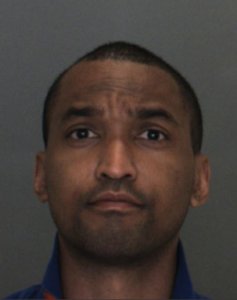 Aristarchus Verrett, 32, was ordered to register as a sex offender, according to a news release sent out Wednesday by the San Bernardino County District Attorney's Office.
Verrett was found guilty in June of one felony count of lewd act upon a child and one misdemeanor count of engaging in lewd conduct.
In February, Verrett went to a Bed, Bath & Beyond store in Victorville, where the victim and her family were shopping.
The girl and her 14-year-old sister were sitting in a massage chairs at the front of the store when Verrett approached her, Deputy District Attorney Maggie Yang stated in the press release.
"He told her she's really pretty and asked about her necklace," said Yang. "The defendant then asked the victim how her massage was going and then made a lewd comment. He then leaned forward and placed both of his hands on the victim's upper thighs, with his thumbs on her inner thighs."
The victim and her sister ran to their mother and told her what happened, according to DA's office. Verrett denied the accusations during a confrontation with the mother.
Verrett later admitted to police that he was aroused during the incident and would have gone further with the victim if no one was around and it wasn't illegal.
"Fortunately, we were able to remove this sexual predator from our community and secure justice for the victim and her family," said Yang, who prosecuted the case. "However, this still remains a traumatic experience for the victim to this day. Her sister testified in court that they don't talk about what happened because even four months after the crime occurred, her younger sister is still very much affected by what had happened."
In the misdemeanor count, Verret was convicted for masturbating on a Kohl's sales floor in an earlier incident.