This is an archived article and the information in the article may be outdated. Please look at the time stamp on the story to see when it was last updated.
A 29-year-old Los Angeles man was sentenced Tuesday to 12 years in state prison for a drunken collision that injured multiple people looking at holiday lights in Alhambra.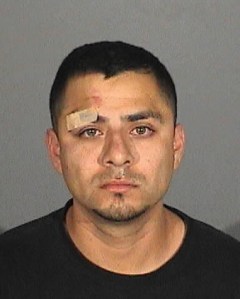 Ismael Soto had previously entered a no contest plea in connection with Dec. 14, 2014, crash. He was speeding and had a blood-alcohol content at least 2 1/2 times the legal limit, he admitted.
Soto was drunk when he crashed his pickup truck into multiple parked cars, which in turn struck bystanders near Fremont Avenue and Poplar Boulevard. Several of those people were in the area to look at Christmas lights, police said at the time.
Fifteen people were injured, Alhambra police said.
Soto had a previous DUI conviction, according to the Los Angeles County District Attorney's Office, which announced the sentence.
He made an open plea — meaning no deal was negotiated with prosecutors — on Sept. 29. Soto pleaded no contest to all counts: driving under the influence of alcohol causing injury within 10 years of two other DUI offenses; driving with a .08 percent blood alcohol content causing injury within 10 years; driving when privilege suspended or revoked for DUI conviction; and driving a vehicle not equipped with an ignition interlock device when driving privilege was restricted.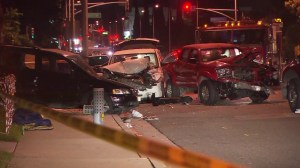 He also admitted multiple special allegations: infliction of great bodily injury to more than one victim in the commission of the crime; driving at an excessive speed; and having a blood alcohol content over .2o percent. The legal limit in California is .08 percent.
Soto admitted to a 2013 DUI conviction as well.
The criminal complaint against him had showed two 2013 DUI convictions — one for an offense committed that year and one that occurred in 2012.