This is an archived article and the information in the article may be outdated. Please look at the time stamp on the story to see when it was last updated.
A 27-year-old man who was convicted of murdering the pregnant wife of a U.S. Marine was sentenced in San Bernardino County Superior Court on Tuesday to life in prison without the possibility of parole, according to the District Attorney's Office.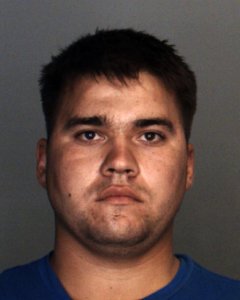 Christopher Brandon Lee's sentencing came after he was found guilty earlier this month of one felony count of first-degree murder in the killing of 19-year-old Erin Corwin. Jurors also found true a special allegation that the former Marine intentionally killed the pregnant woman while lying in wait, a statement from the San Bernardino County DA's office said.
"I accept punishment for the crime I committed. But I cannot and will not admit to a crime that I did not commit," Lee told the court. "I did not want to kill Erin. I did not plan to kill Erin."
Family members also spoke out during the sentencing hearing.
"Erin's murder has pushed and stretched and broken us in ways that no family should endure," Deeanna Heavlin, the victim's sister-in-law, said through tears.
Corwin's body was found at the bottom of an abandoned mine shaft outside of Twentynine Palms in August 2014, nearly two months after she was reported missing. She was three months pregnant at the time.
Lee and Corwin were former neighbors and said to have been lovers.
"I'm not saying it was right for Erin to have an affair with Chris. That was so out of character for Erin that I still struggle to wrap my around it. Even if she made a conscious decision to have an affair with Chris, that does not justify a very planned out murder," said Corwin's mother, Lore Heavilin, who also told the court she has been diagnosed with depression, panic attacks, anxiety and post-traumatic stress disorder since her daughter was killed.
During his testimony in court before his conviction, Lee admitted to strangling Corwin and pushing her into the mine shaft, according to the Desert Sun.
He testified that Corwin had gone with him to the desert under the pretense that they would share a romantic evening together that would include a marriage proposal, the newspaper reported.
However, Lee said he was distraught after being denied a deployment and had wanted to kill himself; he was also angry because he believed the young woman had molested his daughter, according to the Desert Sun.
Corwin's disappearance sparked an all-out search that ended when her body was found on Aug. 16, 2014.
Lee was arrested in Alaska the following day.