This is an archived article and the information in the article may be outdated. Please look at the time stamp on the story to see when it was last updated.
A 26-year-old Los Angeles man allegedly sexually assaulted a lost 6-year-old girl in the parking lot of a Panorama City shopping center a year ago, and now police say they believe there may be additional victims.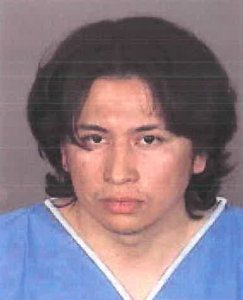 Jorge Enrique Lopez-Maza, also known as Julio Ramirez-Sarmiento, is accused of approaching the girl inside the shopping center and gaining her trust.
He then "lured" her to an isolated part of the parking lot and assaulted her behind some metal recycling bins, according to a Los Angeles Police Department news release issued Tuesday.
The sexual assault occurred April 21, 2016, and Lopez-Maza was arrested the same date, according to LAPD. The status of the victim was not immediately clear, nor was the exact location of the shopping center.
He was booked on suspicion of kidnapping to commit a lewd act upon a child. He's being held on $1 million bail, police said.
In a news release Tuesday, LAPD said the assault occurred April 21, 2017, but Detective Madero said the year was incorrect and the assault occurred last year, with the suspect in custody for the past 12 months.
LAPD Mission Division detectives are hoping to talk to possible additional victims who had contact with the suspect. Anyone with information is asked to call Madero, at 213-996-1375. Anonymous tipsters can call 800-222-8477.
KTLA's Matt Phillips contributed to this article.