This is an archived article and the information in the article may be outdated. Please look at the time stamp on the story to see when it was last updated.
An armed man accused of firing at deputies in Compton was shot and wounded in a deputy-involved shooting after a SWAT team responded Thursday, the Los Angeles County Sheriff's Department said.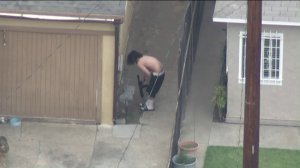 The 20-year-old suspect was roaming his Compton neighborhood during the afternoon with an assault-type rifle when he spotted deputies making a traffic stop, according to sheriff's detectives.
"During the traffic stop, somebody shoots at them from a house across the street," sheriff's Lt. John Corina said.
The SWAT team was dispatched to the area of Aranbe Avenue and Lucien Street about 2:40 p.m. after deputies from the Compton Sheriff's Station came under fire, according to a news release from the Sheriff's Department.
The deputies, who did not return fire, then set up a containment area as they tried to take him into custody.
While searching for him, authorities spotted the man coming out of his residence carrying a rifle. They observed the suspect jumping over his backyard fence and then going alongside his neighbor's home, in the 2100 block of Shauer Street.
The SWAT team surrounded the single-story home while the suspect positioned himself alongside the home, placing the rifle against its east wall, according to the release.
"As the deputies pulled up in front of the home the suspect walked back toward the rifle as if he was going to pick it up.  That's when the deputy involved shooting occurred," the release stated. 
He was standing next to the residence when he was shot shortly before 4:30 p.m., Sky5 aerial video showed. He immediately slumped to the ground as a small dog scurried by him.
Multiple law enforcement personnel swarmed the outside of the home and provided him with medical assistance before paramedics arrived and placed him onto a stretcher, the footage showed. He was taken to an awaiting ambulance for transport.
The man was hospitalized in critical condition, and Corina said he was possibly on life support. It was not immediately known whether the suspect would survive, he added.
No deputies were injured in the incident.
A short time later, the Sheriff's Department tweeted that the "threat" had been "neutralized."
Authorities were investigating why the man was walking around the neighborhood with a weapon.
Anyone with information is urged to call the department's Homicide Bureau at 323-890-5500. Those wishing to remain anonymous can contact Crime Stoppers by dialing 800-222-8477.