This is an archived article and the information in the article may be outdated. Please look at the time stamp on the story to see when it was last updated.
A man in North Hills accused of hitting an off-duty Los Angeles police officer with a "hard object" was hospitalized Wednesday after being shot in the stomach.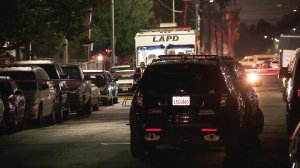 The incident occurred about 1 a.m. in the 8900 block of Orion Avenue, Los Angeles Police Department Detective Meghan Aguilar said.
Two off-duty officers got into a confrontation with a man, who allegedly struck one of them with some type of object.
"We know it was a hard object. It definitely injured the officer," Aguilar said.
At least one of the officers then opened fire on the man, striking him in the stomach, Aguilar said.
The man was transported to a hospital and was undergoing surgery, Aguilar said.
Video from the scene showed the injured officer being loaded into an ambulance with a neck brace.
He was treated and later released from the hospital, Aguilar said.
It was unclear what the officers were doing in the area prior to the altercation and shooting.
The incident is under investigation.