This is an archived article and the information in the article may be outdated. Please look at the time stamp on the story to see when it was last updated.
A shootout at a Hawthorne barbershop on Saturday afternoon left one man dead, authorities said, and investigators found a wounded man at a hospital who was believed to have been involved in the incident.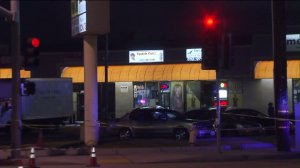 The Hawthorne Police Department about 4 p.m. received a 911 call of "numerous" gunshots fired in the 12800 block of Crenshaw Boulevard, Lt. John Corina of the Los Angeles County Sheriff's Department said at an evening news conference at the scene.
Officers arrived to find an unidentified man fatally shot inside the barbershop, the lieutenant said. He was pronounced dead at the location, in a strip mall that includes a pawn shop, a check-cashing store and a sandwich shop.
Shell casings were discovered inside Updeh Cutz and in the parking lot, according to investigators.
"We did find somebody at one of the local hospitals that had been shot. We think he was shot here," Corina said, adding that the patient was undergoing surgery and was expected to survive. "We're in the process of trying to determine what happened with him."
A preliminary investigation indicated "there were shots being fired into the barbershop and probably shots coming out of the barbershop."
What prompted the shooting was not immediately clear, according to the Sheriff's Department. No one was in custody.
HPD investigating a shooting in the 12800 blk Crenshaw. Shopping center is closed for the rest of the evening.

— Hawthorne Police (@HawthornePD) July 17, 2016
"We've had other shootings here, other problems at that barbershop. It has a history," Corina said. "As little as a week ago, there was a shooting here."
There was at least one firearm at the scene, the lieutenant said, and investigators were awaiting a search warrant to search the business.
Saturday's incident prompted the shutdown of the intersection of El Segundo and Crenshaw boulevards until further notice, the California Highway Patrol said on Twitter. The shopping center was closed for the rest of the evening, Hawthorne police tweeted.
Anyone with information about the shooting is urged to call the Los Angeles County Sheriff's Department's Homicide Bureau at 323-890-5500.
SIGALERT IN GARDENA: INTERSECTION OF EL SEGUNDO BLVD AND CRENSHAW BLVD IS BLOCKED UNTIL FURTHER NOTICE DUE TO GARDENA PD INVESTIGATION

— CHP PIO – LA County (@CHPsouthern) July 17, 2016