This is an archived article and the information in the article may be outdated. Please look at the time stamp on the story to see when it was last updated.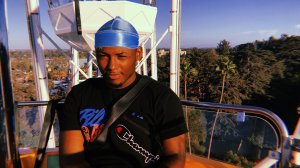 A shooting victim who was discovered outside of a Jack in the Box early Wednesday has been identified as a 20-year-old Long Beach City College student, police said.
Guy Eugene Alford of Hawthorne died after being found unconscious with a gunshot wound in a blue Chevrolet Impala in the fast food restaurant's parking lot, according to a Long Beach Police Department news release.
Hours after the fatal shooting, the LBCC football team expressed condolences to Alford's family and friends.
A very sad day for our Viking family. Senseless violence. "May the choirs of Angel's come to greet you Guy!" Great team player but a better person! #StopThisNonSense Prayers go out to his family and friends from his LBCC Family. #1LOVE

— LBCC FOOTBALL (@VGOH_1) September 26, 2018
At a vigil Wednesday night, the team's head coach, Brett Peabody, described Alford as a "class act" who mentored many other young men in the program.
"He didn't do anything wrong to anyone, ever," Peabody said. "He wasn't affiliated with any nonsense or gang-banging activity."
Many at the memorial were stunned that a life full of promise was cut short.
"They took away an amazing person who never did anything to anybody, and I don't know how anyone could do that," Alford's girlfriend, Amber Pedersen, told KTLA.
Michael Harvey, who had been the victim's best friend since high school, said he was "the hardest working man I knew."
Harvey said Alford was simply in the "wrong place, wrong time" and "it didn't have nothing to do with him."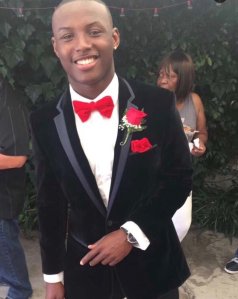 Harvey was seen at the vigil embracing his mom, who wept as she told those assembled she was struggling to process the death of the man she considers her second son.
"This incredible and amazing and talented person that was so full of character and integrity, that someone didn't see the value in his presence and took him away from everyone that's here," she said. "I am absolutely struggling with that."
The shooting was reported about 12:16 a.m. at the restaurant near the intersection of Atlantic Avenue and East 52nd Street.
First responders tried to revive the victim, but they were unsuccessful, Long Beach Police Department Officer Alvino Herrera said.
Long Beach Fire Department personnel arrived and pronounced Alford dead at the scene.
Jack in the Box employees apparently saw the shooting as the car was at the drive-thru window. The vehicle left the drive-thru after the shooting and came to a stop in the parking lot nearby.
Herrera could not confirm any witness accounts but said a homicide investigation was underway.
Evidence markers could be seen from the drive-thru window to where the car came to a stop.
No description of the gunman was available.
It was also unclear if the victim in the shooting was targeted or not; a motive remains under investigation.
A local shop owner said crime is a problem in the area. "We have a problem with delinquency here," he said. Sometimes people enter the stores and just take whatever they want, said the shop owner, who did not want to be identified. "Tomorrow can be a kid. Can be a mother … We need the Police Department around this area," he said.
Investigators will be searching the area for surveillance video, Herrera said.
Anyone with information on the shooting was asked to contact Homicide Detectives Shea Robertson and Oscar Valenzuela at 562-570-7244. Anonymous tips can also be submitted through L.A. Crime Stoppers by calling 1-800-222-8477, visiting www.lacrimestoppers.org.