This is an archived article and the information in the article may be outdated. Please look at the time stamp on the story to see when it was last updated.
A Barstow man who was shot eight times last week when he went to check on an elderly neighbor during a burglary died from his injuries at a hospital on Thanksgiving Day, his wife said.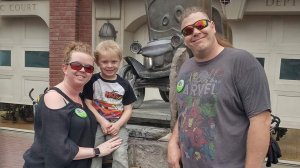 Patrick Smith, 41, succumbed to injuries he suffered in the Nov. 14 shooting in his neighborhood in the 800 block of Keith Street, wife Elizabeth Smith said. He also leaves behind a 5-year-old son.
His alleged killer, identified by police as 18-year-old Leslie Hawkins, remains at large, according to Barstow Police Department officials and San Bernardino County booking records. Four other suspects, ranging in age from 15 to 17, were arrested near the scene in connection with the burglary.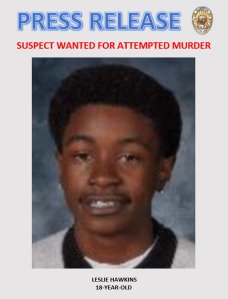 Smith was shot when he went to check on an elderly woman who called him for help when she heard noises during a residential break-in shortly before 7 p.m., according according to Barstow police Capt. Andrew Espinoza Jr.
He was confronted by one of the burglars as he approached the elderly woman's home and was shot, police said.
Police found and arrested the four teenage suspects in the area, Espinoza said. But the alleged gunman, later identified by police as Hawkins, eluded capture and has not been found.
Patrick Smith underwent multiple surgeries and fought hard for his life, Elizabeth Smith said. But he succumbed to his injuries at a hospital on Thursday.
Community support for the family has been strong, Elizabeth Smith said.
An online account that had been dedicated to medical expenses had garnered more than $11,000 as of Friday.
Anyone with information on Hawkins' whereabouts was asked to contact Barstow police Detective Thomas Lewis at 760-255-5187. Tips may also be submitted anonymously to We Tip at 800-782-7469.