This is an archived article and the information in the article may be outdated. Please look at the time stamp on the story to see when it was last updated.
An attempted traffic stop  of a man on a bike in Long Beach ended with an officer-involved shooting after the man allegedly punched an officer, according to a news release issued Sunday.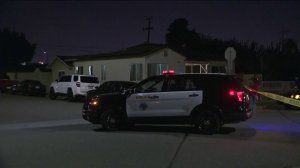 Officers spotted the man riding his bike near the intersection of Burnett Street and Santa Fe Avenue around 6 p.m. Saturday and thought he looked "suspicious," according to a news release from the Long Beach Police Department.
He has since been identified as Luis Perez, a 25-year-old Long Beach man. Police are not releasing the name of the officer involved.
After being pulled over for the bicycle infractions, Perez allegedly refused to comply with what police said was "lawful detention and commands."
He fled on foot into an alley between Adriatic and Baltic avenues, south of 25th Street, and was pursued by officers, according to police.
When one of the officers attempted to detain him, Perez is accused of punching the officer in the face more than once before attempting to disarm him.
That's when the officer opened fire on Perez, police said.
In the news release issued Sunday police say he was struck in "a lower extremity," but on Saturday Sgt. Brad Johnson told KTLA he had been shot in the lower torso.
Police report that Perez is in stable condition and the wound is not life-threatening.
Once he is medically cleared, he will be formally arrested on suspicion of assaulting a police officer and resisting arrest.
The 25-year-old is currently on probation for felony burglary, officers said.
The Los Angeles County District Attorney's Office is investigating the incident.
Anyone with information about the shooting can contact Long Beach homicide detectives at 562-570-7244, or submit a tip anonymously via 800-222-8477 or www.lacrimestoppers.org.
Editor's note: This story has been edited and updated, including changes to the first sentence and headline to include allegations the suspect assaulted an officer.