This is an archived article and the information in the article may be outdated. Please look at the time stamp on the story to see when it was last updated.
Police shot a man who allegedly took out a handgun when they arrived at a Quality Inn hotel in Ontario Tuesday night.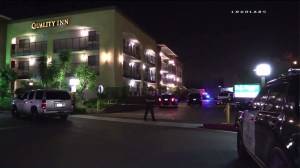 Ontario authorities received a call from the Pomona Police Department about 9:25 p.m. to check out a report of a "male terror threat suspect" who was possibly armed at the Quality Inn hotel, said Cpl. Fred Alvarez with the Ontario Police Department.
Arriving officers confronted the suspect, identified as Alfredo Armando Morales, 44, as he left one of the rooms at the hotel, Alvarez said.
Morales allegedly took out a handgun when he saw police.
At least one officer then opened fire, striking Morales, Alvarez said.
It was unclear how many shots were fired.
Morales was treated by paramedics at the scene and taken to a local hospital in stable condition, Alvarez said.
Authorities later said Morales was described as a terror threat because he was believed to be armed and dangerous.
No one else was injured in the incident.
KTLA's Irving Last contributed to this report.