This is an archived article and the information in the article may be outdated. Please look at the time stamp on the story to see when it was last updated.
Coroner's officials on Friday released the identify of a man shot and killed by Bell Gardens police as he allegedly stabbed his stepfather at their home on Wednesday night.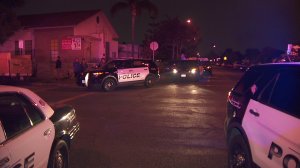 Martin Lopez, 24, died at the scene the 10:20 p.m. officer-involved shooting in the 5900 block of Loveland Street, according to Los Angeles County Department of Medical Examiner-Coroner records.
He was shot by Bell Gardens Police Department officers during a violent encounter that started with a report of a family disturbance, Deputy Armando Viera Jr. of the Los Angeles County Sheriff's Department's Information Bureau said in a written statement.
Lopez attacked his stepfather with a knife inside their home once deputies arrived, he said. Officers opened fire to stop the stabbing.
Lopez was struck at least once in the upper body, Viera said.
His stepfather was taken to a hospital where he was listed in stable condition, officials said. No officers were hurt during the confrontation.
Detectives from the Sheriff's Homicide Bureau are handling the investigation.