This is an archived article and the information in the article may be outdated. Please look at the time stamp on the story to see when it was last updated.
A man who walked into an Ontario grocery store with a shotgun was killed when officers opened fire Sunday night, police said.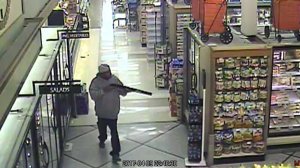 The incident took place about 10:44 p.m. at the Stater Bros. located in the 1900 block of East 4th Street, Ontario Police Department Detective Melissa Ramirez said.
The man has been identified as 36-year-old Los Angeles resident William Baker, though police noted he had been staying with a friend in Ontario for about two weeks.
Police received multiple calls from customers reporting a man with a shotgun had walked into the store, Ramirez said.
Officers arrived and entered the Stater Bros. fearing customers were still in danger, Ramirez said.
Police found Baker, who was still armed with a shotgun, and an officer-involved shooting occurred, Ramirez said.
He died inside the store, Ramirez said.
It was unclear why Baker entered the store, and why he brought a shotgun.
The gun had been reported stolen in a previous theft, police said.
No officers, employees or customers were injured in the incident.
Anyone with information regarding the incident was asked to call the Police Department at 909-986-6711.
Information can also be reported anonymously by calling WE-TIP at (800) 78-CRIME or online at www.wetip.com.