This is an archived article and the information in the article may be outdated. Please look at the time stamp on the story to see when it was last updated.
A man who officers thought was planning to break into a vehicle was fatally shot by police after a brief foot chase in Historic South-Central on Monday afternoon, according to LAPD.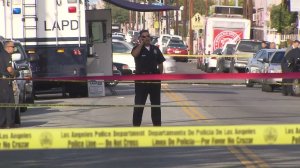 Metropolitan Division officers were deployed to the area to monitor for criminal activity when, about 1 p.m., they spotted a man who they believe was about to burglarize a vehicle, Los Angeles Police Department Detective Meghan Aguilar said.
When the officers stopped their own vehicle to investigate, the man ran away, Aguilar said.
The officers briefly chased the man on foot to the back of a nearby home on Maple Avenue just south of East 27th Street.
"When they got to the rear of that residence, there was an officer-involved shooting," Aguilar said. "This was one officer who fired at the suspect."
The man, described as Hispanic and in his 20s, was pronounced dead at the scene.
It wasn't immediately clear why the officer fired, or what made police think the man was about to burglarize a car.
A handgun believed to have belonged to the man was found near him, Aguilar said.
The officers were not injured.
The police union will provide the officers with representation, and then they'll return to the scene to do a walk-through, and then will do a formal interview at the police station, the detective said.
LAPD's internal Force Investigation Division was on scene. The District Attorney's Office and the Officer of the Inspector General were also expected to send investigators.