This is an archived article and the information in the article may be outdated. Please look at the time stamp on the story to see when it was last updated.
An attempted robbery led to a man getting shot Wednesday night in a North Hollywood area movie theater parking lot.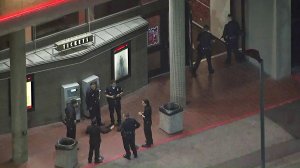 Police responded to shots fired and possible victim down calls about 11:15 p.m. in the 12800 block of Victory Boulevard in the Valley Glen neighborhood, Los Angeles Police Department Detective Adolfo Godinez said.
Arriving officers found a man suffering from at least two gunshot wounds in the parking lot area of the CineMark theater. "One to the right hand, through and through. The other was to the abdomen," Godinez said.
Initial information suggested the shooting may have occurred inside the movie theater, but investigators later determined it took place in the parking lot.
The unidentified victim was treated at the scene before being taken to a local hospital in "good condition," Godinez said.
Investigators believe the man was shot during a robbery attempt, a spokesperson for the Police Department said.
Witnesses reported seeing multiple people running northeast through the parking lot after the shooting.
Authorities said they are searching for two suspected gunmen after first indicating there may be only one shooter.
Nearby vehicles were also struck by stray bullets during the gunfire, Godinez said.
Investigators do not think the shooting was gang related.